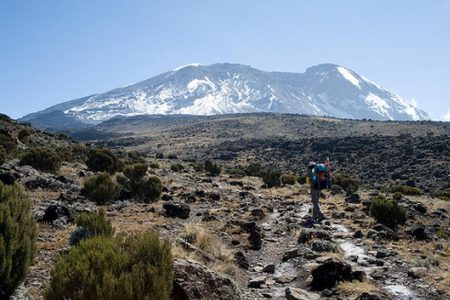 Other Climbing Routes
Our Safari Extensions
Climbing Mount Kilimanjaro via Rongai Route (6-Days)
Arrival
Airport collection and drive to Overnight in L'Oasis Lodge  in Arusha D
---
Day 1:

After breakfast 08:30 you drive to the start of the Rongai route  It takes about four hours due to the rough road. • On arrive at the gate a short rest whilst formality are completed.• After about 3 hours hiking you reach the first cave where you have lunch and rest.
Overnight stay near the cave.
Day 2:

The hiking starts at 08:30 after breakfast, lunch is served in the second cave, you then continue hiking to the third cave where you will overnight. Circa 6-7 hours hiking for this day magnificent views of the Kenyan plains below and Mawenzi tarn above. Altitude 3,800 mtrs BLD
---
Day 3:

Breakfast is served around 07:00.
The hiking begins through the high alpine desert, between Mawenzi and Kibo peaks. lunch is served between School Hut and Kibo Hut Ultimately you arrive at Kibo Hut and camp over night near Kibo Hut.
Day 4:

Short walks to places of interest or time to gather ones strength for the final attempt on the peak at around midnight, one should reach Uhuru for the most wonderful of sights, dawn on the Roof of Africa!
Day 5:

After time for photos and to enjoy the view return to Kibo Hut for refreshments and after a much deserved rest on to Horombo encampment.
Day 6:

You leave Horombo at 07:30 and descend to Marangu gate via Mandara Hut. • The walk takes circa 5-6 hours. •On arrival at the gate you will receive your Certificate of Accomplishment and be taken by our vehicle back to your lodge for a much needed hot shower and rest.
Overnight
L'Oasis Lodge. (Arusha) BLD
---
Day 7:
Departure day: Either transfer to the airport or should you be going on Safari with us, transfer to Arusha. B