Adventure Camping Safaris, Base Camp Tanzania
Safari Extensions for the listed Safari are
OTHER SAFARIS FROM BASE CAMP TANZANIA INCLUDE
9 Days Adventure Camping Safari
– DAY BY DAY ITINERARY –
Day 0:
Arrive at Kilimanjaro International Airport.
Pick up by base camp, Tonight we overnight in a mid range hotel/lodge L'Oasis Lodge
D
---
Day 1:
Arusha National Park
days mixed hiking (circa 2 hours) and game drives, in this special little park at the foot of Mt Meru – chance to see Mt Kilimanjaro – overnight L'Oasis Lodge  D
---
Day 2:
Tarangire National Park
after an early start we drive to and enter this park famous for its many Elephants and Bao Bab trees. • Game Driving until dusk. • We camp just inside the park, and go to sleep listening to the sounds of the African night
. 
BLD
---
Day 3:
---
Day 4:
Visit Hadzapi bushmen living as for time untold in the lake eyasi area. & visit the Datoga tribe Hadza & Datoga info • Overnight camp
BLD
---
Day 5:
AM bush walk-hunt with the Hadza – Drive to
Serengeti National Park is our destination today! • The most famous of all wildlife sanctuary's in Africa! And home to the largest migration of wildlife in Africa. We enter and Game Drive our way to camp near Seronera River inside the park.
BLD
---
Day 6:
A full day's sheer pleasure in the Serengeti National Park
game Driving with over 14.000 square kms to explore in our search for the best that nature has to offer! • Camp at Seronera campsite.  BLD
---
Day 7:
A full day's sheer pleasure in the Serengeti National Park
game Driving with over 14.000 square kms to explore in our search for the best that nature has to offer! • Camp at Seronera campsite
BLD
---
Day 8:
AM: In the Serengeti National Park we rise at dawn, taking a tip from the wildlife that use this time to hunt. • PM: En-route to Ngorongoro Crater:  Tonight we camp at 2.300m on the rim of the crater. It can be chilly! BLD
---
Day 9:
 Ngorongoro Crater, a world heritage, site •We spend the maximum of six hours allowed game driving in this the worlds largest Caldera (collapsed volcano)  amongst the circa 30,000 resident animals.  late afternoon exit and return to Arusha  L'Oasis Lodge BLD
---
Day 10
BASED ON THE NUMBER OF PARTICIPANTS (PRICE IN US$ PER PERSON) <UPDATED 07.07.16 VAT INCLUSIVE>
| | |
| --- | --- |
| ONE PARTICIPANT | $4,850 |
| TWO PARTICIPANTS | $2,950 |
| THREE PARTICIPANTS | $2,350 |
| FOUR PARTICIPANTS | $2,050 |
| FIVE PARTICIPANTS | $1,800 |
| SIX PARTICIPANTS | $1,700 |
| SEVEN PARTICIPANTS | $1,600 |
| | |
| OPTION OF BALLOON SAFARI | $550 |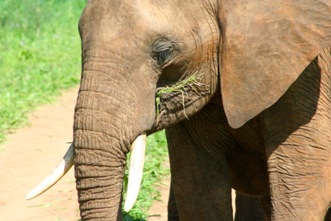 INCLUDED
Airport transfers kia -arrival & departure / all park fees / ranger fees / 4×4 Transport / English speaking driver-guide/ full board = breakfast+lunch+dinner /Bottled water / hotel accommodation days as shown above subject to availability. Flying doctors service
---
NOT INCLUDED
All Things Of A Personal Nature ie: Alcohol / Tips-Gratuities/Laundry,Souvenirs / Airport Tax'es/Sleeping bags